A distributed Low-Voltage Power System utilizes pre-terminated low-voltage lighting cables for safe, flexible LED lighting installations. Low-voltage lighting cables provide for fast, error free installation of LED light fixtures. Cables are available in pre-terminated lengths typical to application / fixture type for error free connectivity of Class 2 circuits in plenum rated applications.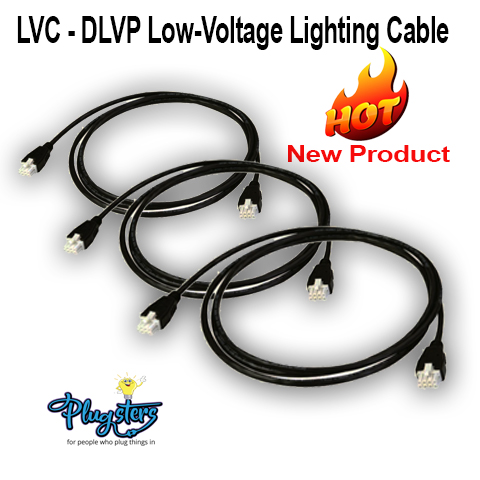 LVC – DLVP Low-Voltage Lighting LED Cable Features:
Pre-terminated for quick reliable plug-n-play connectivity
Power and communications in the same LED cable
8-foot lengths typical for downlight spacing
15-foot lengths typical for ambient spacing
8, 15, and 30-foot lengths to connect the first fixture on a circuit
Supports daisy-chain LED cable fixture connections
Black color for silent ceiling applications
Line voltage lighting vs. low voltage lighting: which is best for your space?
When it comes to choosing the right lighting system for your project or space, it's important to understand the pros and cons of both line voltage and low voltage systems, and where each is most commonly used.
Where to use line voltage lighting
Line voltage lighting can be used just about anywhere low voltage lighting could be used, although the inverse is not true. Line voltage lighting systems can spread as far as you can run wire from a power source. Most often, lighting that is integral to the architecture of a building – or anything that is not in the furniture or millwork – runs on line voltage.
Where to use low voltage lighting
Low voltage lighting is often used in display lighting or in any application where it is challenging to run full standard-voltage electrical conduit and wire.
Low voltage lighting systems are commonly used for display lighting applications, in addition to landscape applications, and is sometimes used in select pendant and recessed applications. Its main limitation has to do with distance – you can only get low voltage so far from a transformer box. They are connected using LED cable.