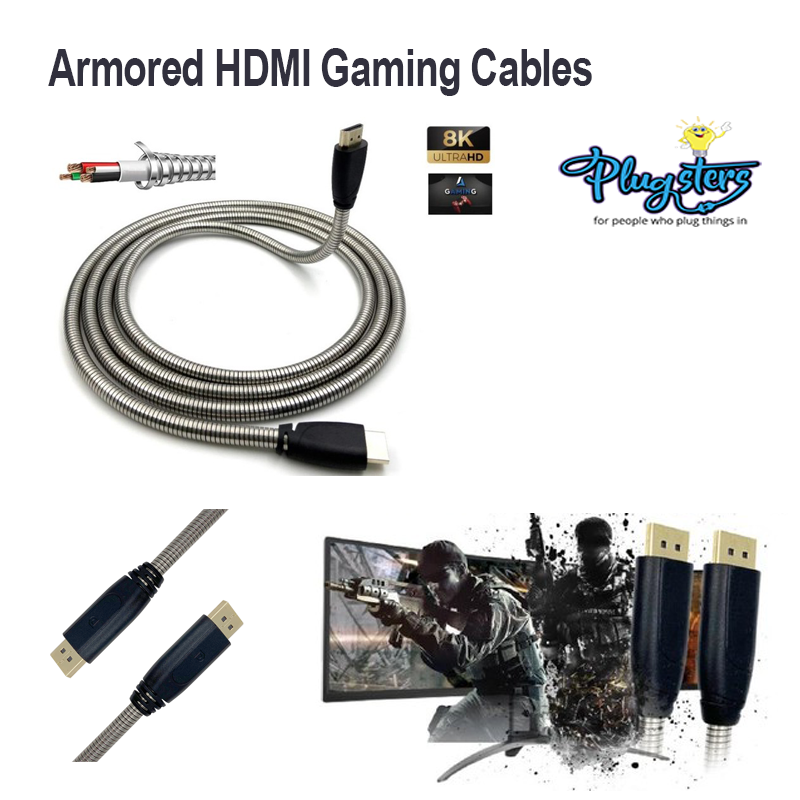 Armored HDMI & DisplayPort Cables for Gaming
1. Sturdy SUS304 stainless steel armored jacket for ideal compression resistance, tensile resistance, pet chew resistant.
2. Immersive Gaming Experience, perfect for large FPS-Game and ultra HD video streaming.
3. Support 8K @ 60Hz; 4K @ 144Hz; 2K @ 165Hz resolution, ideal for high-end gaming monitor.
4. Up to 32.4Gbps Bandwidth, meet the VESA standard and support Dynamic HDR and HDCP 2.2.
5. 24K gold-plated connectors resist corrosion and abrasion, ensures stable signal transmission.
6. Length: 1m, 1.5m, 1.8m, 2m, 2.5m, 3m, 4m, 5m.
7. Color: Silver.
Product List
Armored gaming fiber optic cables (cables for gaming) are simply regular fiber optic cables with a crush and break resistant armored protection surrounding the fiber inside. Armored Fiber Cables take the gaming cable to a whole other level by protecting the fiber from nearly any rough gaming condition. Shock and Pressure Resistance! First and foremost, they're far superior when it comes to shock resistance. Many gaming cables break do use excessive use. Armored cables are also pet resistant. No more chewed up cables.
What Happens When You Use the Wrong Cable
"The whole scenario about 'all cables are the same' is not completely accurate," explains Brad Bramy, vice president of marketing at HDM Licensing Administrator (HDMI LA)—the agent that licenses the HDMI specification to manufacturers. First, there are differences in build quality. One cable could withstand sharp bends better than another, for example, or hold up to more abuse over time. He does agree, though, that price isn't always an indicator of that quality. "You can have an inexpensive cable that isn't cheaply made, and sometimes the most expensive cable isn't the best," he explains. If a cable seems too cheap to be true, though, it might be—so shop diligently, as you would for any other product.