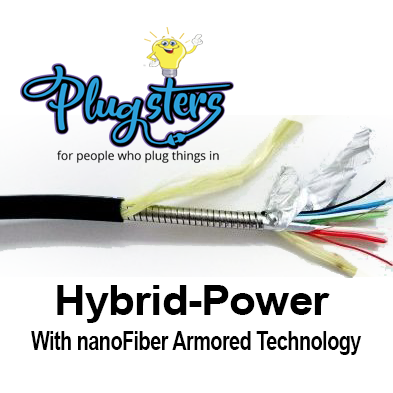 What are hybrid power cables?
Servo drive systems use hybrid cables They supplies the servo drive with energy and also transmits important information back to the control system.
The hybrid cable combines two different types of cable. Hybrid cables are a combination of a servo and measuring system or feedback cable for drive technology.
A servo cable is already a combined cable because here, a motor cable is extended by one or two control pairs. These control pairs are used to operate a brake or a temperature sensor in addition to supplying the motor.
The classic measuring system cable, also called the encoder cable, on the other hand, takes over the data transmission back to the control system. It informs, for example, about the speed and position of the engine.
Why use hybrid power cables?
Single cable technology, also known as "One Cable Technology", is popular in todays technology. This future-oriented system not only saves time, but also money. Due to the combination of two cables, you can save on material, space and working time during assembly and installation.
Where are hybrid cables used?
Typically hybrid cables are used wherever servo motors are used. Many fast but precise movements require a fail-safe cable. The field of application is accordingly diverse. Feel free to call our expert technical support team on how custom made Hybrid Power Cables can benefit your servo needs. Plugsters is a leader in custom made armored fiber optic cables and accessories.
Plugsters Hybrid Power cables are nanoFIBER armored. nanoFIBER armored cables are an award-winning, new proprietary armoring system, that winds a flat stainless-steel coil around the inner fiber optic cables. This creates the smallest armored outer diameter fiber optic armor in the world that is 80% lighter compared to standard aluminum interlock armor (AIA). nanoFIBER has the tightest bend radius on the market and is designed to protect the fragile Corning ClearCurve™ & InfiniCore™ Glass.